Babies
In our Baby Room we provide a safe, caring and nurturing environment and create a home from home experience for all of the children in our care. The Baby Unit is a self contained room consisting of its own milk kitchen and nappy changing facilities. Based within the Baby Room are Gemma and Sonia, who provide love, support and encouragement for all the babies.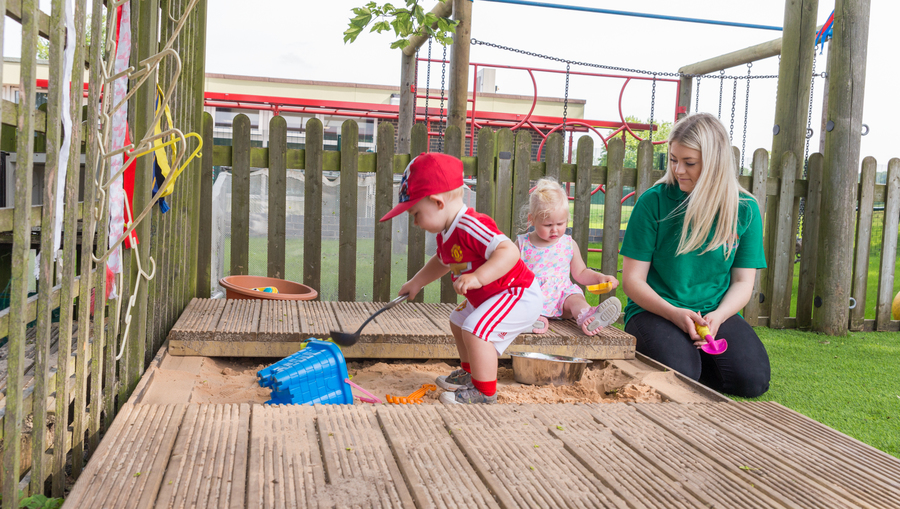 "The baby room is well catered for babies needs. R seems very happy, she seems to have adjusted well and enjoys going to nursery. R is developing well and she now walks and uses a sippy cup well . Her language skills are developing and she is very sociable"
We're really pleased with G's development, she's regularly achieving new milestones. All staff are very welcoming, Gemma is fantastic with G and G enjoys spending time with her. She even says her name when we talk about nursery at home!"
"Staff in the baby room interact well with the babies and provide cuddles which is lovely"
L enjoys his time in the baby room, we are so happy how he has settled into nursery life"
The Baby Room planning is individual to each child, depending on their interests and needs, providing a range of developmentally stimulating activities, in a fun, engaging and educational environment. The planning is done by each child's key person who is responsible for frequently observing and monitoring all their key children in order to communicate development with parents/guardians via Tapestry, an online learning journal. For more information about Tapestry and why each child has a Key Person please click here.